Sports and Rehabilitation Course
PROvention Sports Training
Hosted by ValeoFIT
1235 Clear Lake City Blvd, Suite D, Houston, TX 77062
Register TODAY at:  www.nasatrxster.com
**These courses are open to the public and there are no prerequisites.  Also, you do not have to attend Saturday to attend Sunday!
Injury Prevention Training
Saturday October 18, 2014 from 9am to 5pm.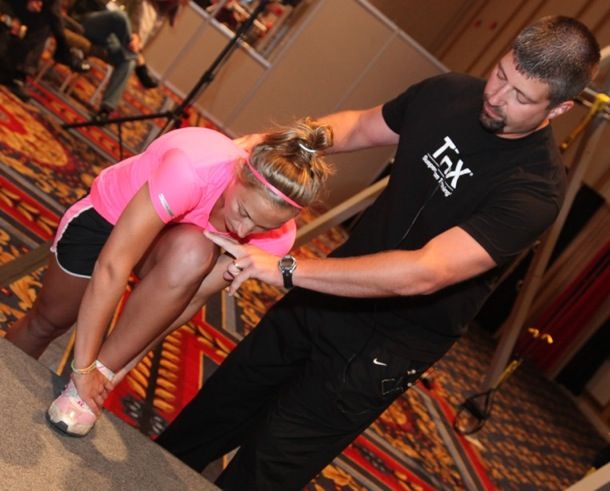 The best way to maintain and improve fitness is to prevent injury.  PROvention combines evaluation, exercise selection, and program implementation to maximize gains while minimizing injury risk.  With a few modifications to most strength and conditioning programs, injuries can be prevented.
The PROvention system equips sport coaches, athletic trainers, physical therapists, strength coaches, and fitness professionals with the skills and guidelines needed to simultaneously improve sport performance and decrease injury rates.
The PROvention system was initially developed in 2006 with men's and women's Division 1 basketball athletes.  It has been extremely successful in decreasing injuries over time.  Initial statistics are showing an injury rate of approximately 1/4 the rate of other similar teams and programs.  That type of success rate over 5+ years of data is not a coincidence.
On the surface, the system seems too simple to actually work and something that everyone should be doing anyway.  Both are true.  But, unfortunately, many of the things that everyone should be doing, doesn't happen.  The system involves detailed information on evaluating your athletes, correcting poor movements, providing a checklist to ensure proper exercise selection, and introducing new dense exercises.
PROvention training is truly taking a Medical Approach to Sports Performance Enhancement.
5 injuries that can be prevented with training:
– Non-Contact ACL Injury
– Hamstring Strain
– Low Back Pain
– Ankle Instability
– Shoulder Pain & Instability
Injury Rehabilitation Training
Sunday October 19, 2014 from 9am to 5pm
When returning from an injury one of the most important concepts is to add back appropriate forces to the recovering tissue that will rapidly return strength and function while minimizing chances for re-injury.  We often see many injuries being treated by simply treating the symptom(s) the client reports and this can lead to a lot of frustration for the client and the rehab professional.
This program is designed to help the rehab professional get to the root of the injury and return those clients to their activity with a good understanding of the issue and a decreased chance of re-injury.
Some of the most common conditions we see that are poorly treated include:
– Plantar Fasciitis
– Runner's Knee/Knee Pain
– Frozen Shoulder
– IT Band Syndrome/Lateral Knee Pain
– Low Back Pain
– Poor Ankle Mobility
SIGN UP TODAY:  www.nasatrxster.com